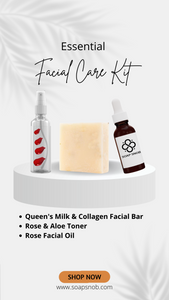 Essential Facial Kit
Upgrade your skincare routine and save by bundling our best-selling facial care products together. This set has everything you need to get started: Cleanse. Tone. Moisturize.
Queen's Milk Bar
This bar is a soft and soothing scent with hints of sweet milk. This is the perfect bar to use from head to toe. The rich blend of milk and collagen leaves the skin silky, soft and free from age spots.
Hydrating Rose Water Toner
Our rosewater toner is simple, hydrating, and formulated to soften and condition skin while balancing and toning. Formulated with Lebanese Rose Water, this toner smells just like a freshly blossomed rose.
Rose Facial Oil 
The perfect rose oil blend that nourish your skin leaving your skin soft and refreshed