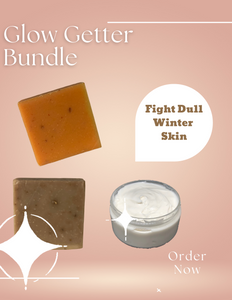 Glow Getter Bundle
Turmeric & Orange Bar 

This bar is the perfect blend to even skin tone, fade dark marks and restore the skin natural glow. Enhanced with a citrus blend of essential oils and natural oats for light exfoliating
O. M. G (Oatmeal, Molasses/Honey Blend and Goatmilk) Bar
This is our first and finest bar to meet all your soapy dreams. This super moisturizing bar is great for those suffering from dry skin and even skin aliments such as eczema or psoriasis.
Soothing Whipped Body Butter
This rich and creamy whipped body butter is just what your body is looking for! It is so thick and moisturizing which makes it perfect for the face, hands, feet, cuticles, legs, and elbows. You will be surprised at how long this jar will last you. Apply a small amount and just rub it in. It is especially effective after bathing or showering when your skin is still warm and damp.