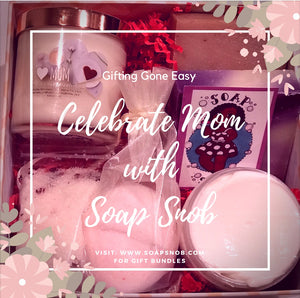 Mother's Day Bundle
Celebrate this special day by indulging in these s(kin)ful delights. Each bundle includes:
2 large soap bars of your choice (5.2 oz each)
Soften your whole body with our "Bae Lotion" (4 oz)
Scrub away all your worries with Rose Himalayan Salt Scrub 
Rosewater toner
All Natural Soy Candle
Free USA shipping
Want to include a gift message? Type it in the "Special instructions for seller" box at checkout.
Note: coupons cannot be used on this gift set — it's such a great deal already!